WE BELIEVE WE HAVE A PERSONAL RESPONSIBILITY TO MAKE THE WORLD A BETTER PLACE.
THANKING HOSPITAL PERSONNEL
Surprise delivery of wraps and sandwiches from Tropical Smoothie Cafe
Rachel (White Orthodontics' newest "linchpin") had an idea to do something fun for some people serving our community during the COVID-19 pandemic. Dr. White was of course on board and an order was called in to Tropical Smoothie for several platters of wraps and sandwiches to deliver to 4 hospitals in Saginaw. Jeanette wrote some thank-you notes to let those dear people know we appreciate them, and dropped them off at the cafe to be delivered with the platters. Many businesses have done similar things for our community service workers…it's a great way to spread some positivity!
PROVIDING HELP FOR DISTANCE LEARNING
Fun contest on Facebook gives everyone a chance to win a brand new Chromebook
Most of White Orthodontics' team members have experienced first-hand the challenges of having children homeschooling for the rest of the school year due to the mandates surrounding COVID-19. The idea for a contest was proposed and a brainstorm session produced the perfect giveaway item: a Chromebook. The contest was posted with one simple determining factor: the photo with the most "likes" wins! In the end, the Chromebook went to Elly, whose photo had 254 "likes"! Way to go!!!
DONATING GLOVES AND MASKS TO LOCAL HOSPITALS
Answering the call for necessary supplies
Experiencing a shortage of medical supplies, many hospitals and medical centers reached out to other healthcare practices for donations of certain products. Teresa and Amber loaded up a trunk with gloves and face masks from our stockroom at White Orthodontics and headed over to Covenant Hospital to donate the much-needed items.
VOLUNTEERING AT ELEMENTARY SCHOOL
Dr. White gives presentation to kindergarten class
Kids think it's cool when a former NFL-player comes to their school to talk about health and fitness! Dr. White stepped into Nouvel Catholic Central Elementary's kindergarten classroom to talk about the importance of an active and healthy lifestyle with the eager pupils, who participated in a pushup challenge (among other things)!
INTERVIEWING FOR THE SAGINAW SPORTS HALL OF FAME
Our very own Dr. White answers questions before induction ceremony
His professional sports background is pretty cool (and certainly plays a major role in the person he is), but we are proud of Dr. White because he values people and treats them with kindness and respect. He's been a pleasure to work alongside and our team is excited for the future of White Orthodontics!
SURPRISING A FAMILY ON CHRISTMAS MORNING
White Orthodontics staff and patients buy, wrap, and deliver gifts to the CAN Council
Kaitlin contacted the CAN Council, a nonprofit that helps children and families in the Great Lakes Bay region, to see if they knew of a family in need. We received wish lists from an unnamed family of five with corresponding ages and genders and we asked our patients to jump on board with us to bless them. Tags were hung on the Christmas tree in our office with items from the family's wish list for people to take and then return with the specified items (necessities like laundry detergent, soap, towels, sheets, and clothing were requested, but there were also fun items like toy cars and Nerf guns and art supplies). About a week before Christmas, we wrapped all of the gifts and dropped them off with a volunteer at the CAN Council, who was blown away by the generosity of the people who participated (way to go, everyone!!!). After Christmas, we even received a thank-you note with a picture from the family. It was so much fun to see parents and kids get excited about giving to others (without expectation of anything in return!). This may have to be a White Orthodontics' tradition!
PARTICIPATING IN THE ANNUAL FESTIVAL OF TREES
Kaitlin and Teresa decorate "A WHITE CHRISTMAS " tree for the Junior League of the Great Lakes Bay Region
Teresa and Kaitlin traveled to the Great Hall Banquet and Convention Center in Midland before the Festival of Trees event to decorate a beautiful, flocked Christmas tree purchased by White Orthodontics. They decorated it in shades of black, white, and silver, and included fun freebies like tickets to a Saginaw Spirit Hockey game, Yeti tumblers, a gift card for Gratzi, and (of course) a certificate for a HUGE discount on Invisalign treatment. At the weekend event, the public bought general admission tickets for $5 each and also purchased raffle tickets, used to enter to win the trees of their choosing! All donations and proceeds helped the Junior League, which promotes volunteerism and focuses its efforts on improving our communities.
SUPPORTING NEW LOCAL BUSINESS WITH TEAM WORKSHOP
White Orthodontics team members get crafty at the Board & Brush in Saginaw
If you haven't been to the new Board & Brush creative studio, you MUST check it out! At this DIY team-building workshop, we brought in lunch from Souper Cafe and chatted before putting on black aprons, rolling up our sleeves, and getting to work! We used hammers to distress wood, rubbed stain into grain, laid out stencils, chose paint colors, and laughed…a lot. The studio was amazing–bright and spacious, and the owners were fantastic teachers. We all had a great time together!
PARTICIPATING IN PARTY ON MCCARTY
Dr. White speaks during MSU Alumni night; White Orthodontics provides games
The Saginaw Township Soccer Complex is packed each summer when it hosts Party on McCarty: six Thursdays of free outdoor concerts, various food trucks (Makin' Bacon…mmmm), kids' activities, craft beer, dancing, people-watching, and cornhole! A friend-of-a-friend made some custom boards for us at White Orthodontics (along with nifty drink-holders and a scorekeeper) and we invited people over to join us near our tent for some fun competition. During a special tribute to MSU alumni, Dr. White said a few words about his football days at Michigan State and how he transitioned back to Saginaw as an orthodontist after playing for the NFL!
PROVIDING FREE MOUTHGUARDS TO LOCAL SCHOOL SPORTS TEAMS
White Orthodontics fills with teenage boys during summer mouthguard clinics
Dr. White is passionate about sports, and every summer White Orthodontics promotes and hosts free custom mouthguard clinics to benefit middle school and high school sports players! We provide an assortment of snacks and beverages, set out some games, and turn the music up LOUD before we get down to the colorful, gooey business!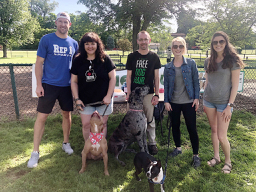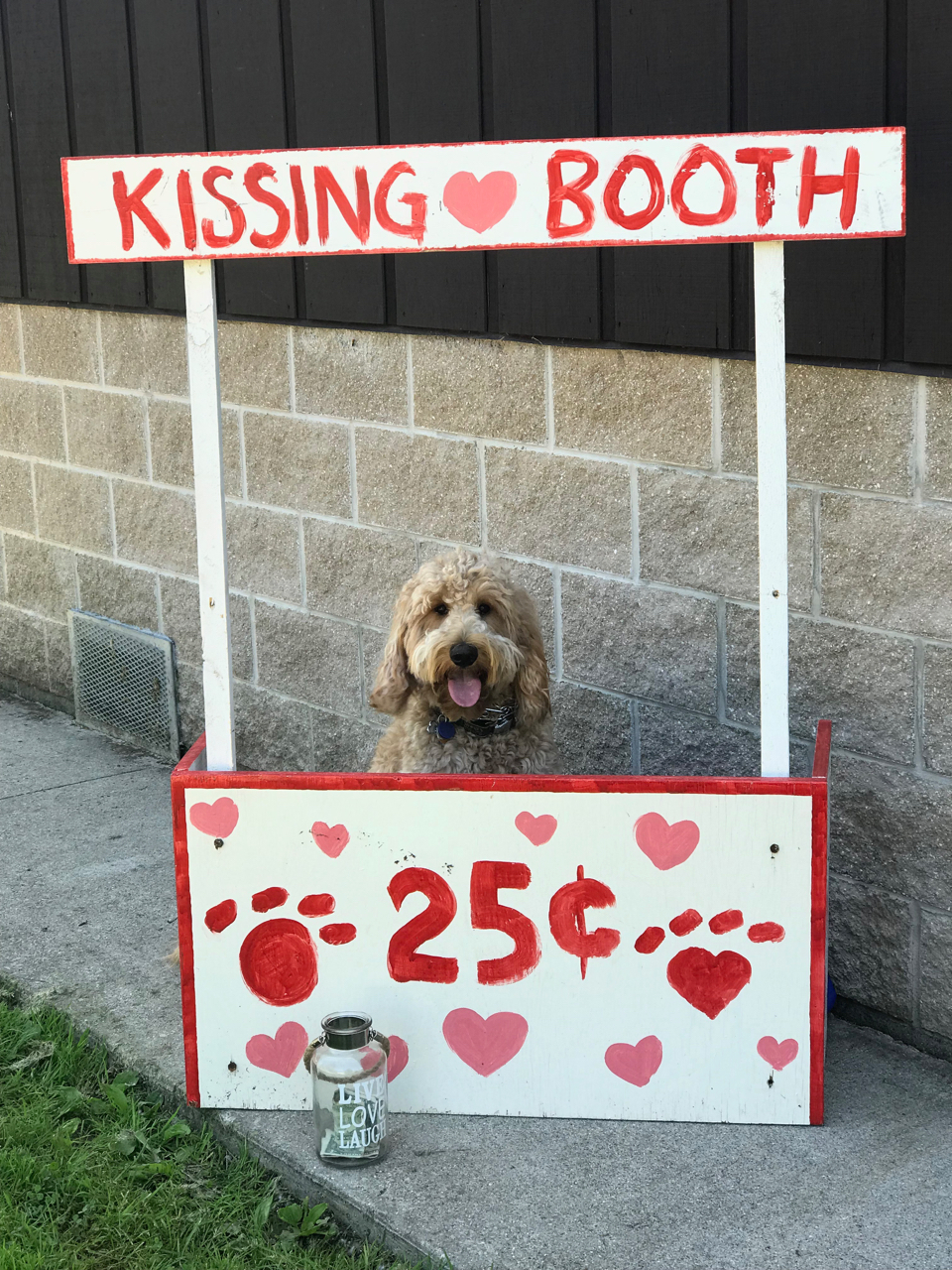 RAISING AWARENESS FOR ANIMAL RESCUE
Partnering with Mitten Mutts for a fun doggie play date at Imerman Memorial Park
Since many of us at White Orthodontics have dogs, a community event involving a dog rescue nonprofit seemed fitting. We found Michelle, who helps find good homes for pups through Mitten Mutts Dog Rescue. Pet Supplies Plus was kind enough to donate some food and dog toys, and we asked people to join us with their four-legged friends at Imerman's dog park, and bring a donation to support Mitten Mutts if they were able. (Needless to say, our dogs were ecstatic to play with each other, and were completely worn out after hours of play!)